The origins of the tiny riverside town of Tilpa, about 100km down-river from Louth, may well be found in the Baakandji word 'thulpa' meaning floodwaters, for it's in the vicinity of this village that the Darling River floods up to 70km wide during major floods, totally isolating local residents.
The town came into existence in 1876 when Arthur Cotton opened a general store, later selling to David Jones and Co before the building was transformed into the present day Royal Hotel in 1894, and they've been welcoming visitors with a cold beer, accommodation and some great yarns ever since.
As with most river towns, Tilpa was once an important river port, carrying supplies up-stream by paddle steamers and returning laden with bales of wool and, like Louth, they also relied on a punt to allow sheep, horses and people to cross the river safely (for a fee) until the mid 1960's.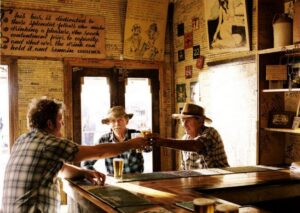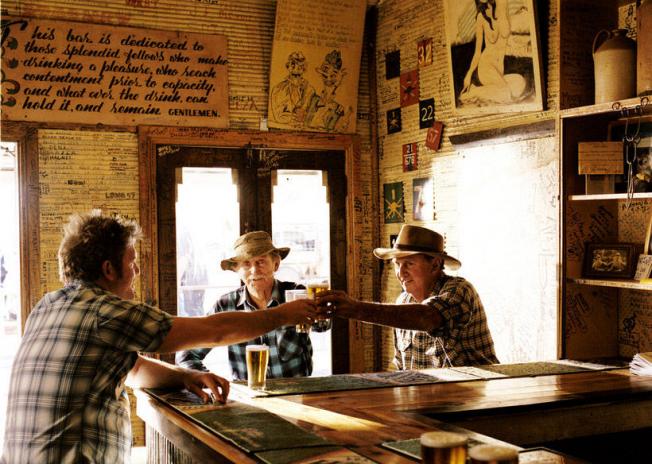 Tilpa may well be only have a population of about 3 these days, but they make some pretty big claims…. the shortest Heritage Walk in Australia, just two signs on opposite sides of the main (and only) street, a Cemetery where no one is buried and the only War Memorial in Australia to commemorate Harry 'The Breaker' Morant.
They've had their fair share of visitors over the years too; Captain Starlight rode through in 1868, holding up several stations, Harry "the Breaker" Morant worked in the district and no doubt visited the pub and Arthur Upfield once did "ten days without the option" in the Tilpa lock-up.
These days the amiable publicans at the Tilpa Pub are happy pouring beers, dishing up great meals and providing a place to rest your head or fill up with fuel if need be for the passing tourist trade and locals, keen to quench their thirst and have a chat while they're doing it.
The McClure's at nearby Kallara Station provide an organic farm experience for guests and there's a great free camp spot at the Tilpa weir for those fully self-sufficient.
Tourist Information

For further information about Tilpa contact the Central Darling Shire Council or Menindee Visitor Information Centre
For Road Condition Reports in the Central Darling Shire region visit: https://www.centraldarling.nsw.gov.au/Services/Road-conditions
See the Darling River Run Discovery Directory – Tilpa for Accommodation, Where to Eat, Attractions and Activities, Supplies, Services and more.